An Interview with John Paul Saddleton
07/15/2021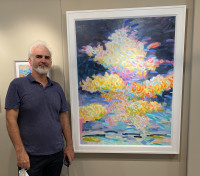 In conjunction with his current solo exhibition, titled 'Wading in The Shallows, Plunging in The Deep', we are delighted to share an interview with John Paul Saddleton.

1. You have a long history of painting in-situ, can you talk a little bit about this process, and the challenges and benefits of working in this way?

Working in-situ does present a number of challenges such as weather, bugs and constantly moving shadows, not to mention getting there and remembering everything! However, the benefits in terms of colour information you'll see with your eyes, especially in the shadows and tonal contrast, will tend to be less averaged out giving you a larger gamut to work with when you squint to simplify. I find brushstrokes are more vigorous and spontaneous outdoors as the energy and thrill of in-situ painting tend to show in the work. Managing much more than a small colour sketch in the time frame of the light is tricky and photos can be useful for details and architectural elements. I find a combination of these references work best.

2. You have talked about your interest in superimposing a digital veneer on to the natural environment, what does that mean?

Superimposing a digital veneer on nature is like reducing the scene into pixels, which is so much of what I see now anyway. It is kind of like looking at something real but being able to adjust it visually with an inherent personal photoshop. I almost treat the brushstrokes as giant pixels that are sliding around as the image constantly moves and shifts colours playing on and off each other constantly (almost like a hyper-impressionism). This is of particular importance in the more abstract reef pieces. I have a piece called Digital Sargents, which incorporates complimentary ghosting to depict movement as these pixilated sargent major fish traverse over a dark indistinct mass below.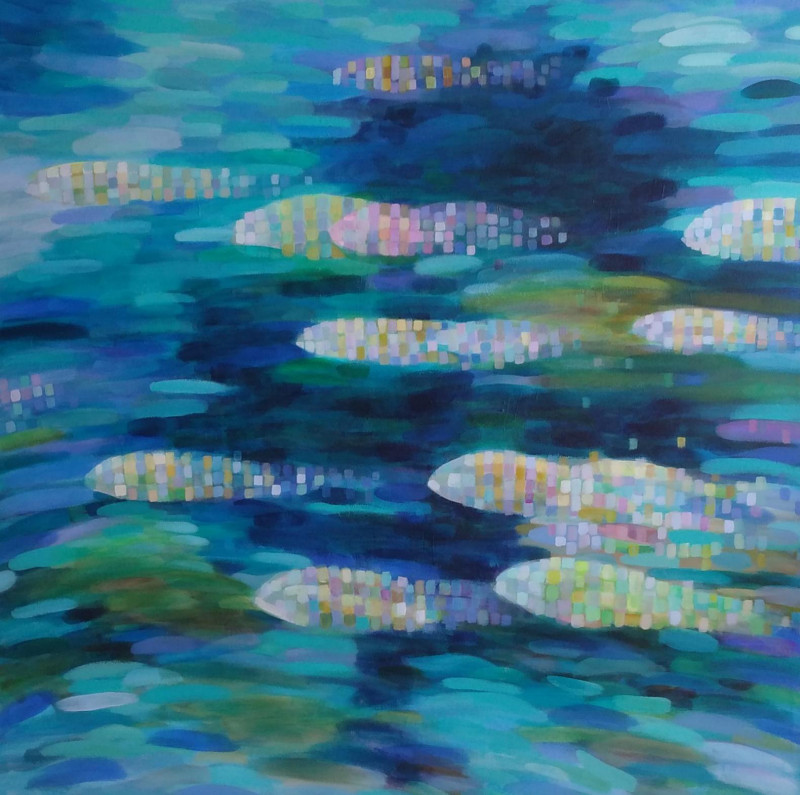 Digital Sargents (2019), acyrlic on canvas, 48" x 48".
3. What are your methods with colour and tone and how do you incorporate this in to your practice?

My use of colour is very important and is based on a limited palette. I like the limited palette as it allows me to control my colour sequences and relate colours to one another based on complimentary and split complimentary schemes around the colour wheel. Drawing on Munsell [colour system] for tonal vibrancy, I'm mindful of where on the grey scale colours are at their most vibrant and use this to my advantage. I find that varying temperature along with hue gives me the most punch when making something stand-out and the reverse works for a more subtle effect. Greys are very important, usually derived from compliments and go a long way in supporting the main hues in a painting.

4. Can you select one of the works from the exhibition and talk about how you made it in detail and why it is significant to you?

One work to mention would be Barry's New Jacket. It is a small piece that I completed during lockdown. Barry has worked hard on his new outfit and is planning to take the reef by storm, but upon arrival is surprised to encounter a pixilated version of the reef he doesn't recognize. Kind of what a post covid world might look like after isolation and exposure to a lot of misinformation…sort of the same but your perception is different.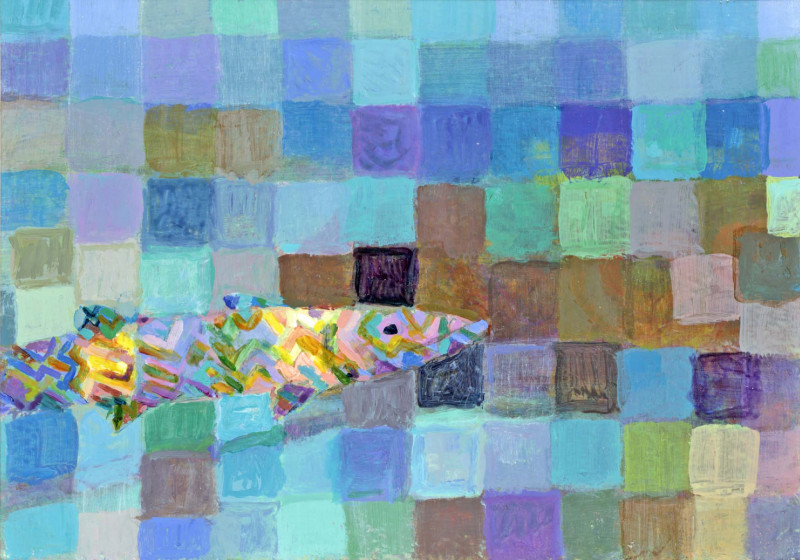 Barry's New Jacket (2020), acyrlic on board, 5" x 7".
5. What artists are currently influencing your practice and why?
Artists influencing me at the moment are Klimt for his sense of pattern, Khan for composition and Bonnard along with Gutman for their sumptuous colour sensibilities. To be honest, with some of my more recent paintings depicting reefs, I have been flip-flopping between Impressionist and Fauvist colour schemes a lot. I'm particularly drawn to their ability to generate energy and movement within a broad space by making subtle tonal and temperature changes.

6. How has your practice evolved over time?

Over time my practice has and hasn't evolved. I've pretty much stuck with painting although I do dip in and out of mediums like oils and acrylics. My style seems to be getting looser and a little sketchier over the years as I like to see some of the remnants of process in the final piece. Simplification and smaller tonal shifts between and within colours seem to be cropping up with more frequency in my work.

7. What is your dream project, exhibition or commission?

Not sure, but I've always wanted to paint with liquid glass. Not quite sure of the mechanics of such an endeavour but thinking of practicing with a 3D doodler.