Saskia D'Aguilar - DAF Director
Saskia D'Aguilar (nee Schutte) was born in 1964, in Winterthur, Switzerland to Dutch parents. When she was five, her engineer father accepted a job transfer to Asia, and the family relocated first to Taiwan and then to Singapore, where Saskia resided until she attended university.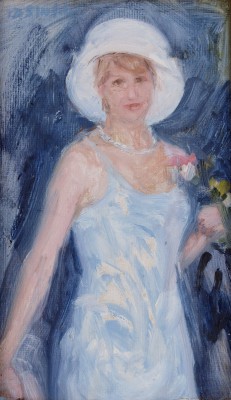 Saskia recalls being devoted to her art teachers and art classes throughout her primary school and secondary school years. She enjoyed architectural drawing classes, ceramic sculpture and drawing. But when it came time to apply to universities, her father wisely counseled her to focus on her strong mathematical abilities, instead of the studio art she enjoyed in school. Sagely, he pointed out that she would always be free to pursue her love of art in her free time, but that she needed to acquire the knowledge and skills in university to support herself upon graduation.
At Cornell University, Saskia received a Bachelor of Science in Hotel Administration in 1987, with a focus on business and finance. After graduation, Saskia worked in the finance sector in Los Angeles and New York, before marrying Dionisio D'Aguilar in 1990. In 1991, the couple moved to Nassau, Bahamas, and Saskia found employment with a major accounting firm until 1995. In 1996, Saskia joined a large law firm as CFO and Office Manager, where she oversaw business operations for their multi-office operations until her retirement in 2008.
From her early days in Nassau, Saskia often accompanied her father-in-law, Vincent, to art shows and galleries. She was very eager to learn more about Bahamian art, and Vincent was a patient and enthusiastic teacher. Later, Saskia would catalogue Vincent's entire collection using a sophisticated database, a project that allowed them to spend many hours together discussing Bahamian artists and their artworks.
After Vincent's death in 2008, Saskia convinced the family to carry out Vincent's wish, as detailed in his will, to set up an art foundation to safeguard and display his extensive art collection. She supervised the restoration of the historic building that houses the D'Aguilar Art Foundation (DAF) and designed the archival storage system, taking into account the environmental threats present as a result of the Bahamas' tropical location. She sought advice from artists, architects, designers and lighting consultants to create a space that would both store the art safely and allow for a modest exhibition space. The DAF building opened in April 2010.
Saskia runs the day-to-day operations of the Foundation. She has curated several of the exhibitions at the DAF, and often works on hanging new shows in what she describes as "a creative frenzy, pulling down paintings, walking around, looking, studying, questioning, and then -- sometimes starting again from scratch." She often personally gives tours of the exhibitions, and especially enjoys helping school children understand the immense talent of Bahamian artists.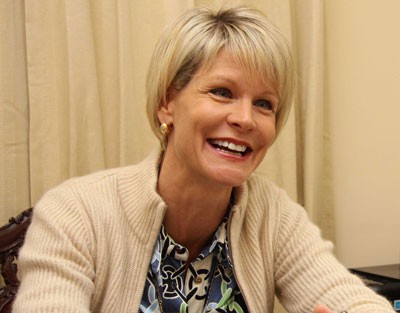 Saskia D'Aguilar
  Besides the DAF, Saskia assists with charity work at the Bahamas Humane Society and the Endowment for the Arts. Saskia and Dionisio have two sons, Alexander and Oliver, who are keen soccer players, and as a result, she devotes a considerable amount of time to the Western Warriors soccer team. Saskia also enjoys traveling with her family, gardening, hiking, cooking and reading.