New Acquisition: 'The Bits John Constable Left Out' (2018)
01/22/2019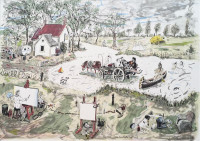 This print by Chris Orr RA* is part of his series 'The Miserable Lives of Fabulous Artists' and was exhibited in The Royal Academy Summer Exhibition, London. The series depicts the studio lives of some great names from art history, namely, John Constable, Vincent Van Gogh, Edward Hopper, Frida Kahlo, Jackson Pollock and Pablo Picasso, all of which are represented using Orr's characteristically humorous visual language.
The artist depicted in this scenario, John Constable, was an English landscape painter. 'The Bits John Constable Left Out' (2018) specifically references John Constable's 'The Hay Wain' (1821), a painting that depicts a River Stour in the early 19th century. Chris Orr's interpretation of the rural scene includes scenarios of daily life that were thought of (at the time) as crude and would have been excluded from Constable's landscapes -- such as the two figures embracing in the water, or even further, peoples like Native Americans who were deemed unworthy of any attention in art. Here's what Chris Orr himself has to say about it:

'My work from Constable's 'The Hay Wain' (1821), under the title The bits Constable left out, plays with the idea of the artist as both subversive and reactionary. My Constable has a blank canvas in front of him. Willy Lott's house is for sale, the backyard shows signs of occupation by Travellers, and Native Americans are coming downriver. Like all of my Miserable artists, Constable is struggling with making something that signifies his experience.'
Chris Orr, The Royal Academy of Arts, 2018
*The RA after Orr's name refers to his status as a Royal Academician, an elite body of 80 artists. It can be considered a great honour and a mark of an accomplished artist, however the award sparks some debate and it is not without controversy.