The Making of "Muse : Muse"
04/19/2018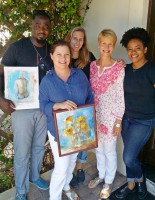 When two artists are inspired by the indefinable muse…  

The stunning work of two powerful Bahamian artists currently commands the gallery walls of the D'Aguilar Art Foundation (DAF) downtown in what can only be described as a striking juxtaposition of masterpieces.


The first artist, the elder of the two, is not only a master artist, but he is "the" Bahamian master artist to whom all other Bahamian artists regard with sincere deference. Interestingly, the 'Master' is also the 'Muse' of the younger artist in the exhibition, and their work together create a mystical 'double dutch' between the acclaimed elder, who passed away 14 years ago and whose own muses saturate his canon, and the younger – who is gaining a name for himself as the current "Rock Star" of the Bahamian art scene.

It is a rare thing to see a male master artist considered 'a muse'; 'muse' having a distinctly feminine connotation. But it is the premise of this new and exciting DAF exhibition that opened during the popular Transforming Spaces (TS) Art Tour in mid-March 2018.

The master & muse is none other than R. Brent Malone, MBE, loved and lauded throughout The Bahamas for his exquisite artistic skill and decidedly 'Bahamian' body of work. His beautifully rendered paintings are prized possessions and only his well-known magnanimity of heart outdistances his talent and ability. Throughout his career, he earned numerous accolades and awards, and even a distinguished honour from the Queen. His magnificent contribution to the Bahamian art narrative has deservedly earned him the honorific title – "The Father of Bahamian Art".

The second artist, whose work in this show is directly inspired by Malone's, is Allan Pachino Wallace – a highly prolific intuitive artist phenom who has become an international internet sensation for his uncanny celebrity portraits made of unconventional media like salt, coffee grounds, and dirt. His lush renaissance-style murals and paintings are seen everywhere from the sides of commercial buildings on Bay Street to canvases in posh suites at Albany Resort. He is brilliant, vigorous, and bristling with creative energy.

It was the unique idea of Saskia D'Aguilar, executive director of the DAF, to harness these two powerhouse artists for the TS art tour in an exhibition the foundation titled "MUSE : MUSE", a show that explores the two artist's responses to their muses, and also how Malone's works and techniques served as an inspiration, or muse, for Wallace's recent works.

D'Aguilar, who has worked on numerous exhibitions for TS since the DAF opened in 2010 states, "It's the annual show where you pull out all the stops. It is an opportunity to draw new members of our community into the art scene, so it's critically important that galleries dazzle visitors with impactful exhibitions. My goal, as always, is to help foster a love of Bahamian art, and TS is the perfect opportunity to cultivate new art enthusiasts." 

Over the years, the DAF has created some memorable exhibitions for TS, including "Disrobed" in 2013, "Haitianary" in 2015, and "The Art of Losing" last year. While mulling over a theme for TS in mid-October, Saskia and her colleagues, Tessa Whitehead (DAF Director) and Letitia Pratt (Communications and Education), challenged each other to put on an exhibition that would surpass all their previous successes.

The idea for MUSE : MUSE came to Saskia while sitting in traffic, daydreaming.  "I thought, Brent is so revered and audiences never tire of his iconic images, wouldn't it be fascinating if Allan—who we've worked with on several major projects—could look at Brent's work though a contemporary lens?" 

The fortuitous alignment of inspiration and breathtaking artwork in an exhibition such as this requires not only the selection of the right paintings to convey a message, but requires a profound respect for the artists and their works, a sensitivity to the complex emotional connections essential to bring it to fruition, and—very critical—the support of other major local collectors.

The first step was to approach Allan to gauge his interest. The initial call revealed how Allan felt about Malone's work; he described it as "awesome and inspirational", and passionately commented on some of his favorites. With that positive feedback in hand, the DAF sketched out a basic outline of what they wanted to achieve for this year's TS – a show featuring Allan's responses to a number of Brent Malone paintings from collections throughout Nassau.

Saskia recalls Allan's answer once she presented the idea to him. "He was very quiet on the phone for a bit. He then said that it would be an enormous honour and challenge for his works to hang side by side with Brent Malone's, and that he was thrilled to accept our proposal."   

The second step was to present the concept to Marysa Malone, Brent's daughter. Thankfully, Marysa enthusiastically embraced the project from the first conversation. "Right away, Marysa was drawn to the idea of a fresh and bold response to her father's iconic works.  She was also keen to lend paintings from her own collection and help us secure works from other collectors."

From that point forward, Tessa Whitehead took over the project working closely with Allan and Marysa, as well as local art collectors Pam Burnside, Dawn Davies, and Dilys Anderson, without whose generosity, this exhibition would not have been possible.

From November 2017 onward, Tessa made numerous visits to Allan's studio, keeping up with his progress for the March 15th opening.  "Inspired by Malone's extensive work with live models, Wallace took on the tradition of finding his own models (muses) to work with for this exhibition. This was quite a separation from his artistic habits: up until recently, Wallace mastered the human form by delving into his imagination, rarely looking to a live model to reference for ideas."

During the process, Wallace found that the reciprocity between the artist and model influenced him to consider previously unexplored aspects of his work. This is best exemplified by a large painting he created for this project. Tessa recounts, "I was particularly taken with one of the paintings that Allan's wife, Kereen, sat for.  She recently gave birth to their first child and holds the gaze of Allan and the viewer with an intensity and vulnerability that is palpable." 

At the DAF, this work of tender intimacy hangs next to "Lucayan Goddess", one of Brent Malone's most iconic works. As Wallace created more paintings for the show, the concept for the exhibit took hold; the common thread binding Malone and Wallace together seemed to be the use of muses to inspire their paintings, and the title for the exhibition ("MUSE : MUSE") revealed itself. 

For Wallace, Brent Malone's work has become a muse in and of itself. Fascinated by Malone's process, Wallace uses this exhibition to explore the relationships Malone developed with his many muses, and delve into techniques that Malone mastered. The results are fresh contemporary paintings that showcase the intimate and reliant artist-muse relationship, according to Wallace, "as complex and beautiful as the Muses that inspired them."

The visitors to Transforming Spaces seemed to agree with Wallace. The participants in TS spent a great deal of time comparing and contrasting the paintings created by two great Bahamian artists.  Many selfies and group shots were posted on Instagram and Facebook.   The DAF staff answered hundreds of questions and tour guides had trouble getting their groups back on the buses, as stragglers lingered in front of the paintings.

Writer and volunteer TS guide Sonia Farmer concluded "The highlight [of TS] was the DAF exhibition—everyone loved the Brent/Allan combo." Notable art collector Dawn Davies commented, "The DAF's current show, showcasing the talent of Allan Wallace against the mastery of Brent Malone is sheer genius, and provides a sense of continuity, excitement and interest in our artistic community."

For Saskia, Tessa and Letitia, an unexpected reward was the bond that developed between Allan and Marysa. During TS, Marysa arrived with a small, beautiful painting of a classical Greek muse, painted by her father during the 1960s. She found Allan in the TS crowd and without any ceremony, gave it to him as a gift, a memento for this shared experience.  Allan was stunned by the gesture, and fumbling for the right response, asked her to choose one of his paintings, which she accepted graciously. "That's when I grasped the importance of all the elements that made this show a reality; including the essential subtlety of the human connections", Saskia reminisces.