01/12/2017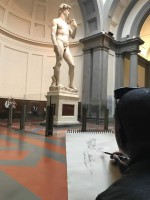 Allan Wallace recounts his
experience visiting the Sistine Chapel with Global Discovery Program, 2016


Walking towards the
door of Sistine Chapel felt like the end of a book for me. A new one began when
I finally laid eyes on my greatest human inspiration in art. My heart was
beating though my chest. It was so loud that my tour guide touched my arm and
asked if I was OK. I wasn't OK.  I could hear my late grandfather saying
to me with a smile.."You made it Chino"