Popopstudios Junior Residency Prize has come to an end and it was a success!
09/13/2016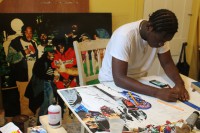 The POPOP Junior Residency Prize has officially come to an end. Stay tuned for the solo exhibitions by Nowé H. Harris-Smith Navarro Newtonand Keith Thompson to see the results of all of their hard work.






Introducing this years PRJP winners:

Nowe Harris Smith
Harris-Smith's work revolves around humanism and the human experience. Her inspiration is derived from anatomical form and the emotional condition. She considers herself a mixed media artist drawn to photographic and painterly media.

Navarro Newton
"My creative practice is informed by the potential of a medium to create subtle nuances in opacity and texture . And how through the application and projections of figurative shapes suggested by the movement of media on a surface, a narrative can be built. Directed through incidental and imagined compositions."

Keith Thompson
"My creative practice involves Conveying black culture from any era or location into paintings. The goal is to show that there is a greater beauty in a race than just skin color, and how black culture spreads through other races. Also to portray the diversities of our cultures as they scatter across the globe and progress in time."