09/20/2018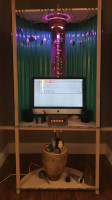 'Pulse' by Margot Bethel and Fernando Mira
This interactive MACHINE perches slightly precariously on a structure
that resembles a make-shift shack. Along with a lit-up keyboard, that
looks inviting (don't push the button!?), there are little containers
and bells everywhere. Even knowing that you can interact with an
artwork, there is a bit of hesitation to do so, but these objects are so
more-ish that they kind-of drag you in.