02/22/2018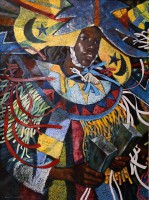 This week, we highlight the artwork of the late Brent Malone
in preparation for our upcoming exhibition for Transforming Spaces, MUSE.
Throughout his life's work, Malone drew inspiration from a select number of
models that nourished his profound interest in the figure. In "Junkanoo
Cosmic Dancer", Malone not only draws inspiration from the figure of the cowbellman
- grounded in a shroud of Junkanoo garb - but also draws from the historic ritual
of Junknaoo itself.