The DAF Curatorial Opportunity
10/11/2022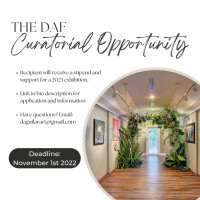 The selected applicant will curate an exhibition at the D'Aguilar Art Foundation (DAF) that will open June 22, 2023.
The Curator will work alongside the DAF team to formulate a well defined theme, develop and exhibition blueprint, select artists and artworks, hang the show, and plan the opening of the event.
Curators will be paid $1000 fee for their work. The DAF will fund the opening reception and support the exhibition through social media and email campaigns.
What we are looking for in your application:
The goal of this program is to provide an oppurtunity to an innovative Bahamian curator, to support new ideas and emerging artists.
We are speicifcally looking for the following:
Innovative exhibition ideas and artistic pairings.
A clear and thorough application.
An energetic self-starter.