New Acquisitions: Shacqeel Coleby and Dyah Neilson
06/16/2022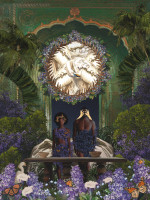 The D'Aguilar Art Foundation is pleased to announce the acquisition of the two pieces from the show Salt and Earth, from artists Shacqeel Coleby and Dyah Neilson.
The first piece, 'The Wedding Feast' by Shacqeel Coleby, is inspired by the Bahamian Folk story of The Gaulin Wife. Coleby looks to Patricia Glinton Miecholas' recorded version of the story in An Evening in Guanima and seeks to illustrate key points of the narrative in his series of digital collages. "The Wedding Feast" zooms in on the wedding of the man and the gaulin bride.

Dyah Neilson's 'A Hidden Wholeness Beneath the Surface', the second piece that we have acquired, speaks to the innate connection of femininity and the nature. According to Neilson, her pieces are always meant to depict Caribbean women as a strong, positive force, and mirror their powers to that of the forces of the natural world.
We are so excited to receive both works into our collection.