F. Marina D'Aguilar: Legend, Mother, Friend, Passes away on March 31, 2022
04/02/2022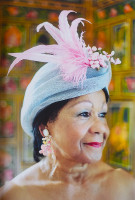 It is with great sadness that we announce the passing of F. Marina D'Aguilar on March 31, 2022 at age 87.
Marina and her late husband Vincent were the founders of The D'Aguilar Art Foundation, amassing a large and important collection of Bahamian art. Marina also supported countless young and established artists, many who feature prominently in the collection of the DAF.
She was a living legend: a proud Mother and Grandmamma, a fiercely loyal friend, a true conversationalist, a colorful storyteller, a fearless traveler, and stylish beyond words. So many people knew Marina and loved her company. We mourn the loss of this incredible collector, mentor, and friend, and she will be greatly missed by her family and the many artists who she supported.